Network configuration and performance
The module offers view and edit of all network parameters likewise supporting multiple activities. It allows the operator parameter changes tracking (long history). The operator can build multiple pre-sets of parameters and feature setup for different conditions e.g. Mass events (manual or trigger based activation). With this module the operator can handle creation of automatic plans for daily or large project activities such as:
Add/ remove sector/ site
Sites reparenting between RAN switches
Add/Remove frequencies
Global activate/deactivate features
Neighbours add /remove all directions, vendors and technologies including importing from external tools
Global or geographical update of network parameter
Engineer requests and commands result in an auto run network plan. Major performance degradation according to operator need and policies can activate immediate NOC alarms.
Coverage and capacity module
Prescheduling and continuously controlling and managing site coverage pattern based on customer distribution during day and night Dynamically adopting site's capacity to customer's location and data demands to maintain service quality. Controlling site coverage pattern and capacity is done by:
Optimizing antenna tilt remotely through network RET system to maintain optimal RF conditions according to interference level and service load & coverage.
Increase/ decrease CPICH power to control the cell coverage and interference to manage service footprint.
Maintain optimal multi-technology and multi-layer neighbor list according to service demands and site traffic load.
Optimizing PCI/ SCO/ BSIC plan to mitigate collisions.
Adjusting parameter and thresholds setup to control cells relation boundaries and steer traffic between layers, frequency bands and technologies.
Auto consistency and exceptions module
Auto consistency means verifying rules and dependencies being checked and autocorrected vs entire network and technologies based on operator's predefined logic. Daily automatic clearing of network parameter exceptions, mismatches and contradiction to operator's predefined parameters and policy.
The module saves a huge amount of working hours usually needed to maintain the network parameter setup and operator's predefined policy
Policy Management module
The module will act as the main operator customized graphical dashboard to the visualized network and system status on one hand, as well as operating the full featured CellO+ system to control its radio optimization strategy. The dashboard will offer full control over network radio resource management along with traffic, mobility generic strategies.
The operator will be able to activate or deactivate the different modules and set thresholds, KPIs and views in a customable way to fit his span of control and responsibility.
Energy saving module
Managing site radio resources to achieve energy saving during night time or other low capacity demand periods by powering down and up carriers/ technologies and cells/ sites without effecting customer experience.
The module has two triggers:
Operator's predefined low capacity schedule that can be pre-set for a specific geographical area or network wide.
The system identifies low traffic and responds according to operator policy (halt sectors/ carriers etc.)
Self-healing module
Identifying faulty or underperforming sectors/ sites and providing immediate relief by activating ANR and coverage and capacity modules to modify adjacent sites to minimize customer experience effect and ensure service continuity. Self-healing underperforming triggers examples:
Cell/ Site down (fault)
Congested site with low throughput and/ or high call block rate
High Interfered site with major traffic reduction
New site plug and play module
Identifying new site or sector and applying operator's network default values, features and parameters according to service area
The new activated cell/ site identification triggers the ANR and coverage and capacity modules to adjust neighbor's list and cell/ site service footprint.
Multilayer and multi-technologies neighbour lists control
The module automatically adds and deletes neighbour relations between cells, including: inter-cell, intra-cell and cross technologies to maintain optimal handover performance and capacity needs. The neighbour deletion or addition triggers can be for example:
High cell/ site drop call rate
Degradation of handover performance
Congested cell/ site to allow traffic balancing
New site/ sector introduction or site down/back in service identification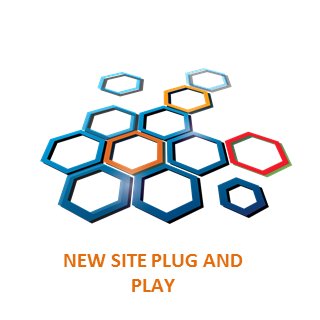 Analytics - Optimization policy and strategy analysis
Performing an intelligent optimization policy analysis in two operation modes:
Mode 1- validating and adjusting current operator's optimization strategy effectiveness
Mode 2 - Analyze and recommend on new optimization policies to meet operator's visionary target KPI indicator